Pump for transfusion oil 3010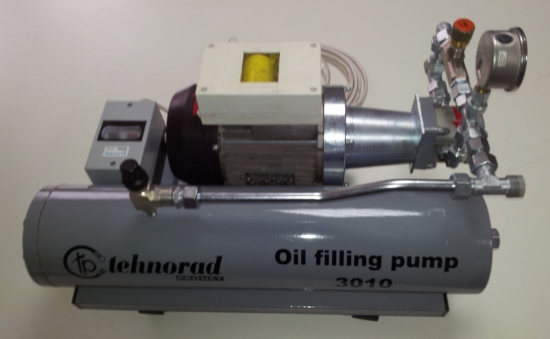 The oil pump is a unit designed for oil filling compressor units. Designed
to compensate for pressure against the normal pressure within oil separator.
The oil pump consists of the following major components:
– Gear pump is connected via a flexible coupling with electric motor
– Suction hose with filter
– Discharge hose with check valve connected nut GA ½ "
– Throttling valve (pressure regulating) between suction and discharge pump works
– Housing for the filter (for oil filtration)
– Oil filter dimensions 90x42x558, the permeability of the filter is 10 microns (filtering oil from the oil flow)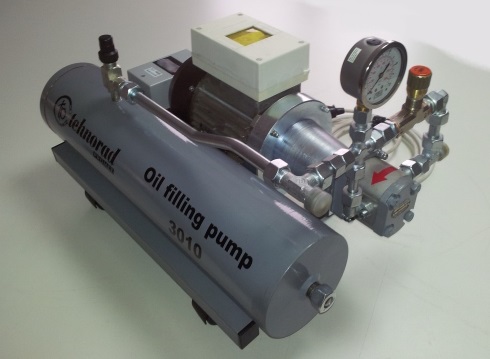 Technical data:
– Pump connectors mounted across the frame as a portable device
– Capacity 6 l / min (50Hz)
– Max. operating pressure 40bar
– Overflow valve set to 10 bar
Motor data:
– Motor protection switch (switch DM) is associated with a motor
– Motor 1Ph, 220-240 V, 50/60 Hz, IP 55
Ordering Information:
1. Complete oil pump 30102001.50
2. Nipple for connecting (nep.vent. R1 / 2 ") 30102001.51
3. " O " ring seal on the pump (optional) Øxmm = 2 pieces.
List items – parts
– gear pump (first Petoletka 3115 473 28 M) 6L / min,
– Elastic coupling,
– electric motor
– DM switch 3VE1 10-16,
– Suction strainer Fi33 / Fi35x100 / NP-13
– Nepovrtni valve 131 -0200,
– suction hose SAE 100 R1 NP-13 × 3000 A10A40,
– discharge hose SAE 100 R1 NP-13 × 3000 A10FSP.86
P
M
15bar
Instructions for use
The oil pump is designed for filling, overflow and filtering of the oil in compressor units.
It is designed to fill the oil level against the pressure inside the oil separator.
The pump must not be used before for purposes other than those listed above.
Service should be performed by authorized persons. Protective equipment should be used and to be at hand before
work begins. Observe the instructions of the security data for the oil and cooling.
The pump is only for internal use.
Each compressor unit is provided with a valve for an oil. Depending on the type of the compressor
the connection between the valve and the hose for discharge with cone seal (24 °) with or without rubber
seals.
Discharge hose is provided with a check valve to prevent backflow old
oil in the event of a deadlock.
Insert Backing end of the suction hose in the barrel with clean oil. Suction filter should be fully covered
Oil all the time .Pumpa of the pump is preset overflow valve to protect
alone pump and hose. The pump must not be operated when the valve is closed longer period of time, that would
overheating. The pump must not run dry.
Never leave the pump to operate without supervision.
Once the appropriate level to stop the oil pump. Then, slowly unscrew the hose connection, making sure
that there is no more pressure.